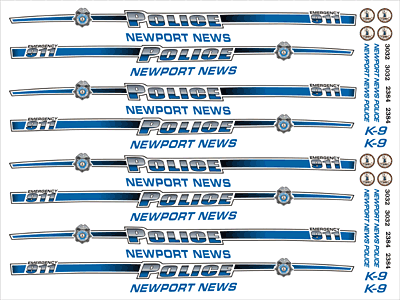 Newport News, Virginia Police Decals (older vehicles)
PLEASE READ BEFORE ORDERING!

Conroy's Cruisers does NOT keep any inventory of Bilbozo Decals.  All Bilbozo Decal orders are emailed to Bilbozo the same day the customer orders them from me.  Bill then freshly prints your decals off when the order is received and then mails them from Nanaimo, British Columbia, Canada, usually within 48 hours of his receipt of the order.

Normal shipping time for you to receive your decal order from Canada for 1 to 3 sheets is 2-3 weeks, sometimes longer depending on how quickly the package clears U.S. Customs. I have absolutely no control over the customs process or the length of time it takes for the U.S. Postal Service to deliver your package.  Moreover, Canada Post does not provide tracking for these parcels.

Buyer understands the terms above before placing an order.
If you see a decal sheet in the photo, that is what you will receive. If you see pictures of a finished model, you will get the decal sheet to make the model that is shown in the photograph above.

These decals can be printed in 1/64th, 1/43rd, 1/24th, or 1/18th scale.

The smaller the scale, the more decals you will get per sheet. More decals equal more cars.

Bill estimates that in 1/43rd scale, you will be able to make at least 10 cars per 1/43rd decal sheet breaking the price down to $1.25 per car. Some decal sheets yield more cars; it all depends on the size of the graphics for that particular decal.