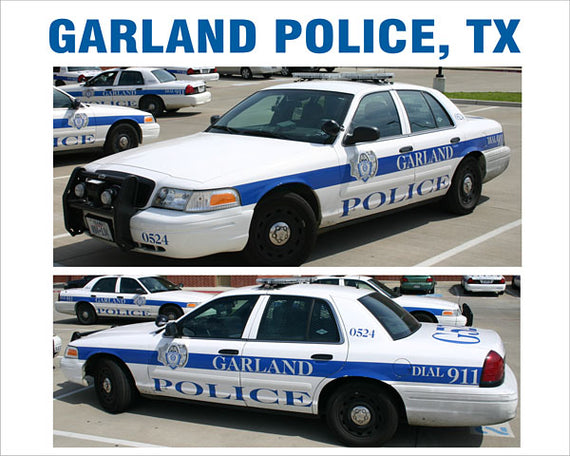 Garland, Texas Police Decals (mid 2000s graphics)
These decals are made by Bill Smith of Canada. You may recognize Bill from his business name of Bilbozo Decals.

If you see a decal sheet in the photo, that is what you will receive. If you see pictures of a cruiser, you will get the decal sheet to make the cruiser that is in the photograph above.

These decals can be made in 1/64th, 1/43rd, 1/24th, or 1/18th scale.

The smaller the scale, the more decals you will get per sheet. More decals equal more cars.

Bill estimates that in 1/43rd scale, you will be able to make at least 10 cars per 1/43rd decal sheet breaking the price down to $1.25 per car. Some decal sheets yield more cars, all depends on the size of the graphics.


All Bilbozo Decal orders are sent to Bilbozo the same day the customer orders them from me.  Bill then prints your decals off as they are ordered and then mails them from Canada, usually within 48 hours of his receipt of the order.  None of the decals are stocked ready to go, each sheet is printed off fresh as an order comes in.

Normal shipping time for you to receive your decal order from Canada for 1 to 3 sheets is 2-3 weeks, sometimes longer depending on how quickly the package clears U.S. Customs.