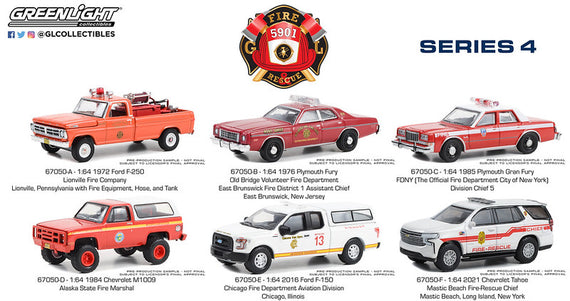 #67050 - 1/64th scale Greenlight Fire & Rescue Series 4 6-vehicle set
***Tentatively scheduled for release in December 2023.  Date is likely to change with worldwide shipping issues which are completely beyond the manufacturer's control.***
This is the complete 6-car set from Greenlight's Fire & Rescue Series 4.  Included are:
1. Lionville Fire Company, Lionville, Pennsylvania 1970 Ford F-250 Pickup Truck with Fire Equipment, Hose, and Tank

2. Old Bridge Volunteer Fire Department, East Brunswick Fire District 1 Assistant Chief, East Brunswick, New Jersey 1976 Plymouth Fury

3. FDNY Division Chief I 1985 Plymouth Gran Fury

4. New Haven Fire Department, West Battalion, New Haven, Connecticut 1989 Chevrolet K5 Blazer

5. Chicago, Illinois Fire Department Aviation Division 2016 Ford F-150 Pickup Truck

6. Mastic Beach, Long Island, New York Fire-Rescue Chief 2021 Chevrolet Tahoe

Cars come as shown in the photos.
1/64th scale
GL67050