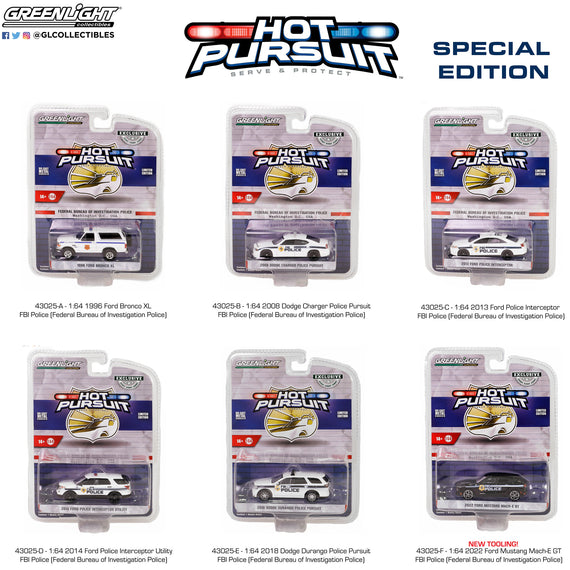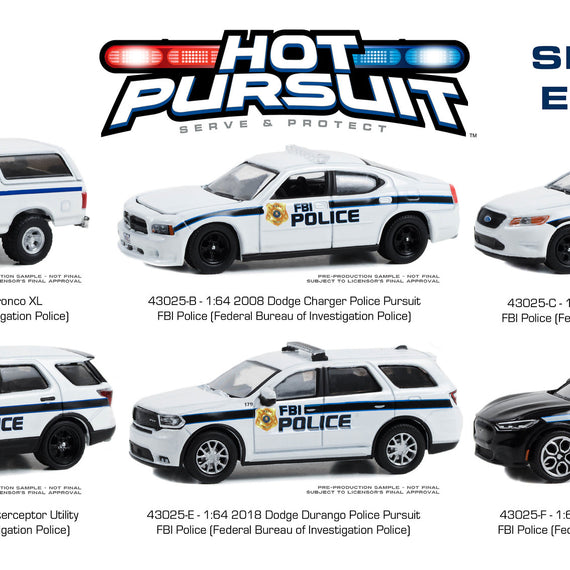 #43025 - 1/64th scale Hot Pursuit Special Edition: Cars of the Federal Bureau of Investigation (FBI) Police 6-Car Set
***Tentatively scheduled for release in November 2023.  Date is likely to change with worldwide shipping issues which are completely beyond the manufacturer's control.***
This is the complete 6-car set from Greenlight's Hot Pursuit Special Edition depicting cars from the Federal Bureau of Investigation (FBI) Police.  Included are:
1. FBI Police 1996 Ford Bronco XL

2. FBI Police 2008 Dodge Charger Police Pursuit

3. FBI Police 2013 Ford Police Interceptor Sedan

4. FBI Police 2014 Ford Police Interceptor Utility

5. FBI Police 2018 Dodge Durango Police Pursuit

6. FBI Police 2022 Ford Mustang Mach-E GT

Cars come as shown in the photos.
1/64th scale
GL43025